A listing of private, commercial hot springs located in the state of California.
Hot Springs Map
No Records Found
Sorry, no records were found. Please adjust your search criteria and try again.
Google Map Not Loaded
Sorry, unable to load Google Maps API.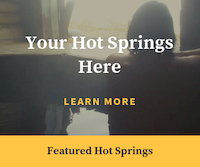 Murrieta Hot Springs Located in Murrieta, CA Located in Southern California in the quaint town of Murrietta, you will find the lovely Murrietta Hot Springs. Today Murrietta is used as a Christian Retreat Center and is only accessible to guests attending a retreat at the property. Discover an extremely peaceful and relaxing escape that serves as a spiritual haven for

Read more...